Hills Shire Times Kenthurst ``big cat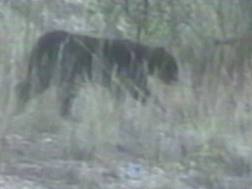 sighting Vanessa Massey 13Feb 07
Footprint found at the Prof
Bernard Bowd's Kenthurst property. The mysterious big cat of Kenthurst has been spotted again, with two sightings within two days at the same property. Professor Bernard Bowd who is confined to a wheelchair, said his carer Sukanya Harvey came to him on Tuesday and said she had seen a big cat down in the back paddock."I have been a resident of Kenthurst for the past 25 years and I have heard about this `big cat', but I had never known it to be seen on my property before - until now, Prof Bowd said.``I am just disappointed that I am in a wheelchair and could not go down to have a closer look myself.Mrs Harvey said she saw a big cat make its way down to the dam at the back of the Kenthurst property at about 8pm on Monday.``I called my husband over to have a look also because it scared me a bit . . . we watched it for about 10 to 15 minutes, she said.``It was definitely bigger than a normal sized cat and had a big long sleek tail, Mrs Harvey said.``We watched it walk over to a sand patch in a neighbouring property and that was when my husband tried to go and get a closer look.Mrs Harvey said when she woke up at about 6.30am the next day she saw it again sitting in the sand on the adjacent property and noticed it had scared her neighbour's horse away.
Community content is available under
CC-BY-SA
unless otherwise noted.