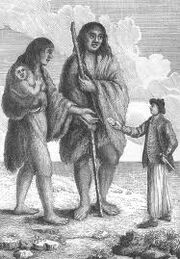 GIANT HOMINID of South America.
Etymology: The size of these animals caused 
explorer Ferdinand Magellan to name them 
Patagónes (Portuguese, "big foot") and their 
country Patagonia.
Variant name: Chaucahue (possibly Huilliche/ 
Araucanian).
Physical description: Height said to be 7–12 
feet.
Behavior: Nomadic, following the wild herds 
of Guanaco (Lama guanicoe), their primary 
source of food.
Distribution: Southern Argentina and Chile.
Significant sightings: In June 1520, the expedition 
of Ferdinand Magellan encountered giant 
Indians at Puerto San Julián, Santa Cruz 
Province, Argentina.
In June 1578, Francis Drake's men brawled 
with the Puerto San Julián Indians, noting they 
were not as tall as Magellan's chronicler had indicated.
Sebald de Weert in 1598, Joris van Spilbergen 
and Wilhelm Schouten in 1615, John 
Byron in 1764, and other visitors also encountered 
Indians of large stature.
Probable explanation: The Tehuelche Indians, 
whose height was exaggerated by clothing and 
long hair. In 1983, the last thirty or so remaining 
Tehuelche lived on a small reserve at Camashu 
Aike, Santa Cruz Province, Argentina.
Community content is available under
CC-BY-SA
unless otherwise noted.