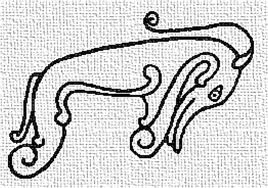 Unknown FRESHWATER MONSTER depicted on 
rock carvings in Scotland.
Physical description: An animal with characteristics 
resembling both a swimming elephant 
and a dolphin. Elongated beak or trunk. The 
head has a crest that may be a stylized way to 
show a porpoise spouting. Flippers. Tail has a 
curled tip.
Distribution: Rodney's Stone, at Dyke, in 
Moray; Brough of Birsay in the Orkney Islands; 
the Dunfallandy Stone, in Perth and Kinross; 
the Maiden Stone, near Pitcaple, Aberdeenshire; 
Port Elphinstone Henge, near Inverurie, Aberdeenshire; 
the Rhynie Pict Stones, Aberdeenshire; 
Aberlemno, Angus.
Significant sightings: The Picts were wild 
tribes that lived in Scotland during Roman 
times. They carved about fifty different types of 
symbols into rough stone and rocky outcrops, 
many dating from the sixth century and earlier. 
One of these symbols is the Pictish beast.
Possible explanations: 
(1) A Dolphin (Family Delphinidae) or 
Porpoise (Family Phocoenidae), based on the 
shape of its head and a stylized spout. 
However, it has legs and a tail without flukes. 
(2) A swimming elephant, based on the 
trunk. 
(3) A Celtic KELPIE or WATER HORSE, 
suggested by Elizabeth Sutherland.
Community content is available under
CC-BY-SA
unless otherwise noted.