"Star jelly"
 (also called 
astromyxin
, 
astral jelly
, 
pwdr sêr
, 
star rot
, or 
star shot
) is a gelatinous substance sometimes found on grass or even on branches of trees.
[1]
 According to folklore, it is deposited on the earth during 
meteor showers
. Star jelly is described as a translucent or grayish-white 
gelatin
 that tends to evaporate shortly after having "fallen." Explanations have ranged from the material's being the remains of frogs, toads, or worms, to the byproducts of 
cyanobacteria
, to the 
paranormal
.
[2]
[3]
[4]
[5]
 Reports of the substance date back to the 14th century and have continued to the present day.
[5]
[6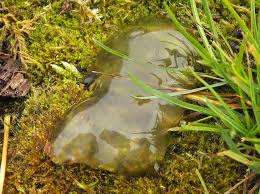 ]
Examples:
There have been reports of pwdr sêr (also pwdre sêr or pydredd sêr, Welsh for 'star-rot') for centuries.[7] John of Gaddesden (1280–1361),[8] for example, mentions stella terrae (Latin for 'star of the earth' or 'earth-star') in his medical writings, describing it as "a certain mucilaginous substance lying upon the earth" and suggesting that it might be used to treat abscesses.[6] A fourteenth-century Latin medical glossary has an entry for uligo, described as "a certain fatty substance emitted from the earth, that is commonly called 'a star which has fallen'".[9] Similarly, an English-Latin dictionary from around 1440 has an entry for 'sterre slyme' with the Latin equivalent given as assub (a rendering of Arabic ash-shuhub, also used in medieval Latin as a term for a 'falling' or 'shooting' star).[10]
The Oxford English Dictionary lists a large number of other names for the substance, with references dating back to the circa-1440 English-Latin dictionary entry mentioned above: star-fallen, star-falling, star-jelly, star-shot, star-slime, star-slough, star-slubber, and star-slutch.[11]
The slime mold Enteridium lycoperdon is called "caca de luna" (Moon's excrement) by the locals in the state of Veracruz in Mexico.[12]
A long article in the paranormal magazine Fate declared Star Jelly to be of extraterrestrial origin, calling it "cellular organic matter" which exists as "prestellar molecular clouds" which float through space.[citation needed]
In The Book of British Amphibians and Reptiles (page 138) author M Smith, explains that Star Jelly is most likely formed from the glands in the oviducts of frogs and toads. Birds and mammals will eat the animals but not the oviducts which, when they come into contact with moisture, swell and distort leaving a vast pile of jelly like substance sometimes also referred to as Otter Jelly.
In 1910, T. Mckenny Hughes ruminated in Nature as to why meteors were associated with star jelly by poets and ancient writers, and observed that the jelly seemed to "grow out from among the roots of grass".[2]
Community content is available under
CC-BY-SA
unless otherwise noted.